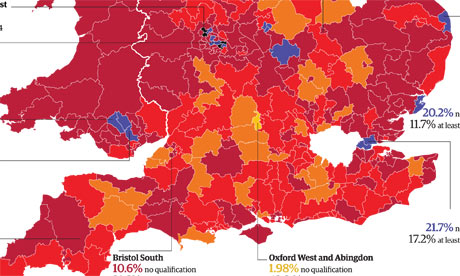 Click image for full graphic. The percentage of people of working age with no qualifications 2005 parliamentary constituencies. Conducted by the lecturers' union UCU, the research finds that the proportion of those with degrees or equivalent varies hugely across the country - from 62.3% in Kensington and Chelsea to just 9.91% in Birmingham Hodge Hill. Find out how your constituency does. Graphic: Jenny Ridley

Education in the UK has been transformed dramatically. Just over 20 years ago, the national curriculum was introduced as part of the Education Reform Act of 1988, and as recently as 1997 we had universal free higher education.

Many will say that one of the greatest changes has been an obsession with targets which dates back to 1997, when Labour came into power with the mantra of "education, education, education". This substantially shifted power, as Margaret Thatcher's education secretary Kenneth Baker put it, "from the hub to the rim of the wheel".

Read more...